Corfu has traditionally been a great place to take a family holiday. There are hotels that specially cater for families; some even have their own water parks. Corfu has no shortage of family friendly beaches and attractions. So, what are the best family resorts on Corfu?
Mitsis Roda Beach Village, Roda.
This hotel is centred around those who just want to have a little bit of fun. It is located on the beach and the swimming pool has its own children's pool with slides. It also has a kids clubs and child friendly menu, and a playground. Family rooms are available that can sleep up to 2 adults and 2 children.
Nearby attractions are also family friendly. The main beach in Roda is shallow and the tides are gentle, making it a safe beach to visit with the family. Watersports are also on offer including water skiing and paragliding.
Boat trips are also available to other areas in Corfu, often stopping at sleepy quiet coves not accessible by land. Trips are available to Corfu town, Paxos and Anti Paxos and even day trips to Albania.
If horse riding is your thing there are plenty of tracks available along the shoreline and inland. Other family favourites include the Waterparks at Aqualand and Hydropolis. Aqualand is one of the biggest water parks in Europe and is extremely popular during the hot summer months.
Legends Apartments, Sidari.
This 3 star family run hotel is ideal for families who are looking for a child friendly resort that is quiet and not too big. It is a small and intimate complex, not too far away from the resort centre, but far enough to get the peace a quiet needed for a relaxing break.  Whilst the hotel does not have some of the facilities that the bigger all inclusives have, it caters well for children with their own swimming pool and splash pool. There is plenty to see and do outside the resort including the Canal D'Armour rock formations, beautiful and family friendly beaches; boat trips around the island and further afield, and of course the two waterparks that are close by, the closes being Hydropolis in Achavari.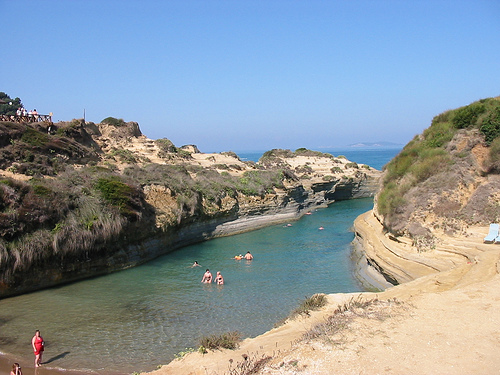 Photo: Nick J Adams
There are plenty of family friendly resorts in Corfu, many with their own children's pools and clubs. Some hotels are even attached to water parks. Either way, Corfu is a great destination for families.