Corfu has always been a popular holiday destination. The wide variety of resorts, hotels and locations make Corfu a great place to get a top holiday at a competitive price. There is a mixture of hotels at every resort, from the 5 star all inclusive to the small and intimate self catering hotels – Corfu has something for everyone.
Where to go.
Corfu is a long island and the resorts can be found all over the island.
Kavos.
Kavos is the party capital of Corfu. It is located at the southern tip of the island. Aside from its famed nightlife, the beaches are beautiful and the resort is quiet during the day.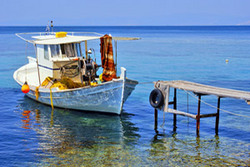 Kavos is largely geared towards the younger generation. Kavos was once a pretty Greek village but much of its charm has been lost to the party scene.
Sidari
Sidari is on the North coast of the island and has the party atmosphere of Kavos,  but with added charm and family appeal. Sidari has plenty of beautiful beaches and there is plenty of things to see and do around the resorts. If partying isn't your thing, there are quieter resorts within a short distance of Sidari.
Aghios Georgios is a pretty, small and quiet resort in the North of the island. The area is absolutely breathtaking in May with the lush green landscape and inviting sea. Aghios Georgios is not the place for a lively nightlife and it is perfect for young families, couples; or those seeking a quiet and relaxing break.

Paleokastritsa
This famous resort is set in stunning surroundings. The resort is ideal for families and those who want a quiet and relaxing holiday. One of the most beautiful beaches is the bay, with its warm waters and gentle sloping beach it is a safe place for families. There is also plenty of things to see and do in the immediate area including the Angelokastro – a beautiful castle built with panoramic views of the countryside.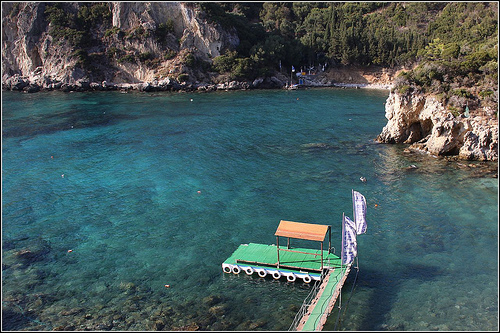 Photo: One of may beautiful bays at Paleokastritsa. By Ben Salter.
Kassiopi
Kassiopi is a lively but family friendly resort on the North East coast. The beaches in Kassiopi are either pebble or shingle, but the sea is safe for swimming. Aside from the beaches there is a lot to see and do in the immediate are and further afield. Boat trips are available from Kassiopi's port and interesting destinations include the beautiful islands of Paxos and Antipaxos, day trips to Albania are also possible. Corfu town can also be visited by boat, stopping at secluded bays along the way.
Corfu has a lot to offer holiday makers. There is plenty of choice of resorts, from the party towns to the relaxing sleepy smaller resorts, the choice is endless. Prices are among the cheapest holiday destinations in Greece and much of Europe.