Cuba is an amazing place to take a family holiday. The all inclusive resorts are family friendly, the beaches are safe and clean, there is plenty to see and do and it has a year round climate. Many of the family friendly hotels offer excursions to swim with dolphins, explore the island, and make a family friendly holiday that everyone will enjoy.
Cuba's top 3 Family Friendly Resorts.
As far as holidays to Cuba go, many of the hotels in Cuba offer great family services. For a start, nearly all of the hotels in the major resorts are on an All Inclusive basis.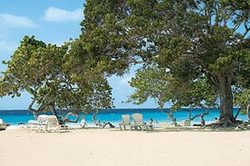 Where are the Kid Friendly Resorts in Cuba?download movie The Cache now
There are two main resorts in Cuba: Varadero and Guardalavaca. Varadero is on the Western side of the island, close to the capital city of Hanava. Guardalavaca is on the Eastern side of the island about an hour away from the regional centre of Holguin. Both resorts are great for families and they have plenty to see and do outside the main resorts.
Hotel Playa Pesquero – Guardalavaca.
This 4 star all inclusive resort is located on the beachfront close to Guardalavaca. The hotel has a mini train that is free for guests and travels around the resort. Great for families with small children who don't want to walk miles to get to the pool! Speaking of pools, Playa Pesquero has a large main pool with an island in the middle. It is one of the biggest pools in Guardalavaca and it also has a swim up bar. There is a separate pool set aside for activities.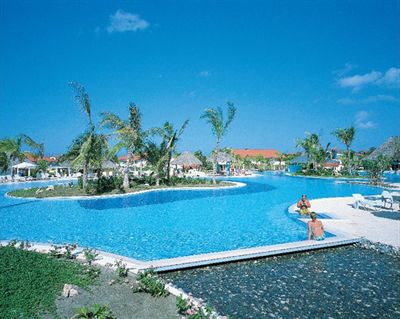 For children there is a children's splash pool. There are also baby club which caters for children from birth to 4 years and a kids club for children 5-12.
The hotel is close to the Bahia de Naranjo National Park. Here you can swim with Dolphins, hike through nature trails and forests, sunbathe on the beautiful beaches or learn to dive at the coral reef.
Hotel Playa Turquesa – Guardalavaca
Set in lush tropical gardens, this hotel has it all. Located on the Playa Yuraguanal beach, and a spectacular pool complex, this hotel is a great family affair. It has 5 swimming pools, 1 with a swim up bar and one with waterfalls and fountains.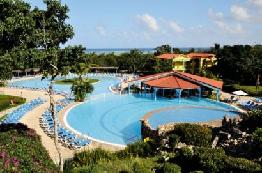 There is plenty to keep the kids occupied. They have their own pool in the kids club area, as well as dedicated activities. The hotel is 500 metres from Roca Azul Ecological Park. Here you can do horse riding, ride an ostrich, hike through the park and fish on the lake.
 Hotel Rio De Luna – Guardalavaca
The Rio De Luna hotel is located on the gorgeous Playa Esmeralda, one of the top ten best beaches in Cuba. The hotel has two swimming pools and a kids pool in the club area. There is a wide range of facilities to suite families, including snorkelling, mini-golf, pedalos and table tennis. The hotel is particularly suited to larger families as rooms are available next to each other which can accommodate families of up to five people. There are also single parent offers available.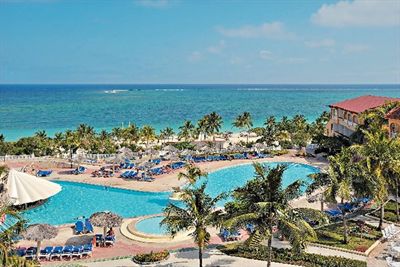 Thomson Holidays offer great value holidays to Cuba
Affiliate Disclosure – This site is a participant in the Thomson Affiliate program, an affiliate advertising program designed to provide a means for sites to earn advertising fees by advertising and linking to Thomson.co.uk.